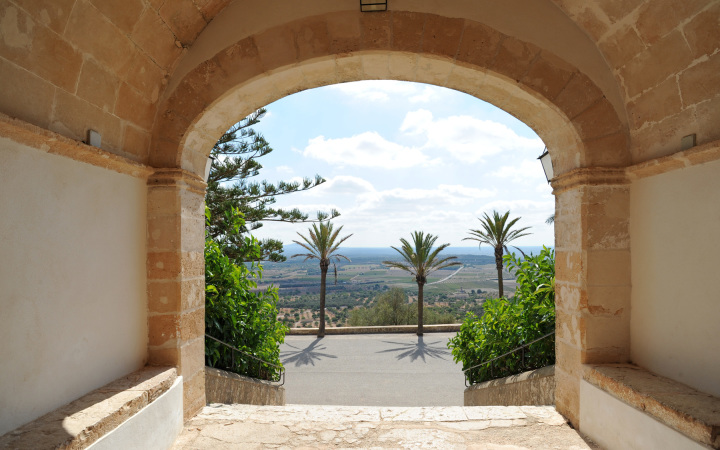 Surroundings
Enjoy the best of Mallorca
Ideally located in the centre of the island, Es Riquers is very close to multiple points of interests that you can visit during your stay.
Located in the south-central part of Mallorca, Porreres invites you to enjoy peace and nature. A traditional farming town with a deep-seated food culture, it has 36 windmills and countless sanctuaries, including the Monti-Sión sanctuary which offers stunning views over the region. It borders the municipalities of Llucmajor, Montuïri, Sant Joan, Vilafranca, Felanitx and Campos.
The surrounding towns are rich in culture and handicrafts. Their streets come alive with colourful markets and craft fairs. They also offer visitors secluded coves with crystal-clear waters and white-sand beaches, including Es Trenc (Campos), Ses Covetes, Sa Ràpita, D'es Molí de S'Estany (Colonia Sant Jordi), Cala Mondragó and Caló des Moro (Santanyi), Cala Pi (Llucmajor), Cala Marçal (Portocolom), Cala Sa Nau (S'Horta), to name but a few.
Horse riding (Randa), cycle routes, Mallorca's olive oil route, hiking, wine tasting, golf, water sports, craft fairs and markets... Porreres and the surrounding area offer a wide variety of leisure and tourism activities—the perfect opportunity to learn more about the Balearic culture and people. The closest towns are Campos (11 km, 15min), Montuïri (8 km, 10min), Vilafranca de Bonany (10 km, 15min), Sant Joan (13 km, 16min), Sineu (18 km, 20min), Felanitx (14 km, 19min), Colonia Sant Jordi (26 km, 20 min), Llucmajor (15 km, 19 min).